No more asking that question… watch loving baseball fans be on the lookout – and get your wallets open.  Antiquorum Auctioneers is looking forward to its' December 8th auction to be held at its US headquarters in New York City. Not a New Yorker? No worries – you can register to bid on line, too, or by phone. (http://www.antiquorum.com/how-to-buy/)
Three special timepieces formerly belonging to Joe DiMaggio are coming up on the block at this auction. One of the most exciting Joltin' Joe piece is the Longines wristwatch, circa 1940s. The rectangular 14-karat pink gold and diamond watch is accompanied by a photograph of Joe DiMaggio wearing it. Its estimated value is $5,000 to $7,000. Also being offered is DiMaggio's Wittnauer pocket watch – made in 1952 for the World Championship of the New York Yankees – and engraved as such on the caseback, along with the Yankee logo. This watch is valued at $3,000 to $5,000.  There is also a 1973 Imexal clock going up for bids (valued at $2,000 to $5,000) that was presented to Joe DiMaggio for the Casey Stengel Award in January 1974.
This comprehensive sale, which encompasses an impressive collection of 356 vintage and modern watches, also includes several other extremely rare pieces.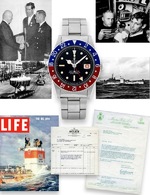 If you're a Rolex lover, you may want to open your wallet wider and go after the Rolex GMT-Master, Ref. 6542,  that belonged to Don Walsh – Lieutenant of the US Navy and Officer-in-Charge who piloted in the Bathyscaphe Trieste with Jacques Piccard to the Marianas Trench, for which he was gifted the Rolex in April 1960. The watch, circa 1958, is a two-time zone center seconds piece that is accompanied by the original 1960 letter from Rolex, the book "Seven Miles Down:  The story of the bathyscaph Trieste" by Jacques Piccard; an original 1960 copy of Life Magazine with the Trieste on the cover; and a host of other important materials, documents and photographs. The watch and materials is valued at $20,000 to $30,000.
This may be the time to start wondering … What's in your wallet? http://www.antiquorum.com/