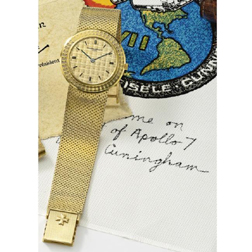 Next week, Sotheby's Important Watches and Clocks Auction in New York on April 13 will feature a host of watches and clocks dating back from the 16th century to current best watchmakers. Works include automatons, singing bird clocks, and watches from today's greats such as Urwerk == as well as many of the best in between. One of the highlights is Lot 148 — a 1966 Vacheron Constantin 18-karat yellow gold bracelet watch that was presented to astronaut Walter Cunningham by Bob Hope.
Expected to sell for between $10,000 and $20,000, the manual-wind watch features a 17-jewel movement stamped with the seal of Geneva, a gilt engine-turned dial, applied
baton indexes, an enlarged engine-turned bezel, and an engraved inscription on the outside of the case back that reads: 'To Walt, Thanks for the Memory, Bob Hope.' (Referring to what would become known as Hope's signature song.)
It is important to note that this watch was not worn in outer space. It is, however, being sold with a flown Apollo 7 beta patch from Astronaut Walt Cunningham's mission, featuring a hand-written inscription from Cunningham reading, "Carried with me on the flight of Apollo 7 – Walt Cunningham."
The crew of Apollo 7 appeared on a Bob Hope
television special in November 1968, only ten days after they splashed down. A few months later, in the spring of 1969, the three astronauts did a second show with Hope on stage in the Oakland Coliseum. Before this performance, Hope presented Cunningham with this watch as thanks for his work in the Apollo program, and for the successful television show from the previous fall.