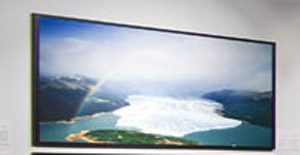 Omega has long been a friend of the Space program. It is the watch that went to the moon; it is the watch that timed the re-entry in a near-fatal Apollo mission. The brand has also long been associated with the Earth's Oceans. Its watches have gone on expeditions with
Jacques-Yves Cousteau and the late Sir Peter Blake. Now, Omega sets its sights on Planet Earth, as it has joined with environmental activist and photographer Yann Arthus-Bertrand in the making of a film (set to debut in june 2012) called Planet Ocean, to depict the natural beauty of the waters that cover two-thirds of Earth's surface.
The first portion of that film comes in the form of some spectacular aerial photography by Arthus-Bertrand, which is currently on display in Shanghai at the Swatch Art Peace Hotel until October 23rd. The photos from above reflect a variety of natural habitats and expressions of life, as well as man's imprint on the environment. It is designed to depict a "state of the planet" in this new millennium.