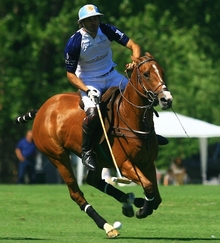 In 2011, which is just around the corner, Jaeger-LeCoultre will celebrate the 80th anniversary of the famed Reverso watch. This watch – one of my all-time personal favorites – was developed in 1931 at the request of British polo players in the India Army, who were looking for a watch that could withstand the games. Theirs had been broken enough times. This was the beginning of the story of the Reverso, and of the partnership of Jaeger and LeCoultre, who came together to build the now-famous reversible case to protect the dial and crystal. (To read more on the Jaeger, LeCoultre and Reverso story,  click here.)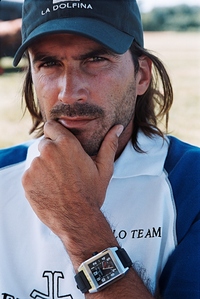 The first Reverso (meaning "I turn around" in Latin) watches had simple metal casebacks on the reverse sides of the dial and crystal, as these timepieces were dedicated to this sport.
xxx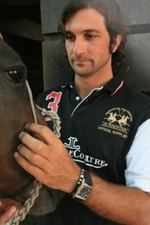 Later versions, however, became beautifully decorated and subsequent models showed a secondary dial, as the Reverso graduated from a polo tool to a truly iconic signature timepiece.  Still, as the brand prepares to celebrate the 80th birthday of this legendary watch, it begins a series of events to recall the polo relationship that is at its roots.
This week in Argentina –one of the supreme lands for this sport — Jaeger-LeCoultre took part in a polo charity match, along with its Argentina polo ambassadors who are wearing the newest versions of the Reverso – the Squadra.
World Chronograph Polo FieldAdolfo Cambiaso, with a handicap of 10, is wearing the Squadra Hometime Reverso, engraved with an Argentinean flag.
Eduardo Novillo Astrada, who started playing polo at age 6, wears the first-ever ceramic Reverso watch, the Reverso Squadra World Chronograph Polo Field.  The watch shows local time and chronograph on the front dial and world time on the back dial. The 366-part movement is protected by a black ceramic 50-part case with 18-karat pink gold swivels.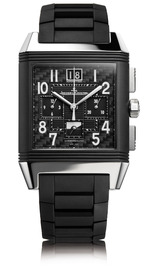 On  November 29th, Jaeger-LeCoultre held a special charity polo match with star players in Buenos Aires at Hurlingham Polo Club. For every goal scored during the match, Jaeger-LeCoultre donated funds to the Christian Family Polo Movement, an organization supporting the schools for children coming from low-income families in greater Buenos Aires. Celebrities participating included Novillo Astrada,
Lia Salvo, Gabriel Iglesias, Juan Carlos Harriet and Will Johnston. The match raised $10,000 US dollars for the CFPM.