Ines Patoz, watchmakerWhen one thinks of a master watchmaker, one usually envisions a middle-aged man working diligently with loop and old-world tools. In fact, some of today's finest watchmakers are young – people who enjoy an active lifestyle and yet are passionate about time and time crafting.
Girard-Perregaux wishes to celebrate those watchmakers and to bring reality home to those of us who are fascinated by the work they do. As such, the brand premiers in New York starting tonight – the launch of a luxury watch industry first – The New Face of Tradition, Eight Young Watchmakers and the Art of Making Time. This print and online journal has been curated by Girard-Perregaux and highlights the young watchmakers behind the brand's famed manufacture. Some of these watchmakers are also rock & roll stars, puzzle masters, skate boarders and even an international alpine horn champion – showing the multi sides of the people behind the complex watches.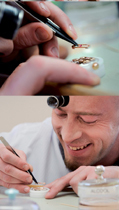 Jean-Luc Borel, watchmaker  On Tuesday, May 1st Girard-Perregaux will bring its Swiss atelier to the streets of New York City. Four of the young watchmakers featured in this journal will unveil it during a special event at Cipriani Dolci. In addition to the unveiling, the watchmakers will be giving one-on-one workshops to watch connoisseurs and guests for amazing insight on watchmaking and what really goes into creating these exquisitely complicated timepieces.  This tour will continue to Beijing, Paris and a few other cities throughout the year. These young talents can be discovered online here.
Jean-Luc Borel, champion alpine horn player