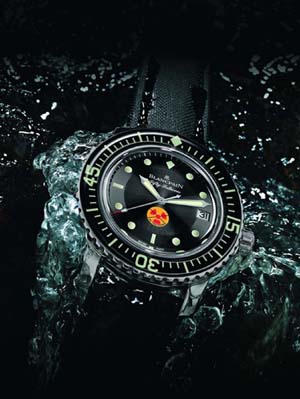 For those in and visiting New York the end of this month and in to February, you're in for a treat. Beginning on January 26 and running through February 11 at the Blancpain Boutique (781 Madison Ave), there will be an exhibition entitled: "The Blancpain Tribute to Fifty Fathoms." The collection of timepieces for professional divers is one of the most comprehensive to be on display. It was assembled in Switzerland in October with the help of numerous collectors from around the world and consists of an array of more than 60 Fifty Fathoms created since 1953, when the brand launched the line in answer to a request from the French Navy Combat divers unit. The exhibit traveled to China and now the USA.
The exhibition includes the recently released and finally arrived Tribute to Fifty Fathoms (No Radiations) watch. This self-winding watch, with date and seconds, features a one-way rotating bezel, antimagnetic inner cage and is housed in a 45mm steel case. Created in a limited edition of 500 pieces, the $14,600 watch is water resistant to 30 bar. It marks the first time Blancpain has used the "No Radiations" symbol on the dial of a watch since it was first used in 1960. At that time, Blancpain was raising awareness that its watches were radiation-free in response to the 1917 case of the "Radium Girls" — young women factory workers who contracted radiation poisoning from painting watch dials with glow-in-the-dark paint at the U.S. Radium factory in Orange, NJ. The newest watch carries the original symbol and is a celebration of the No Radiations timepieces.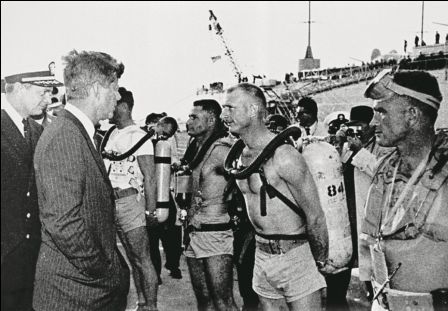 President John F. Kennedy inspecting a UDT/Navy SEALs team in diving uniform. The second diver from left is wearing a Tornek Rayville.