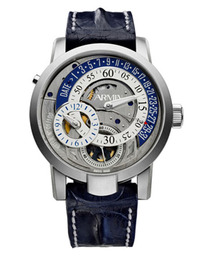 Armin Strom, Official Timing Partner of the Virgin Racing Formula One Team now adds an all-new dimension to the mix by bringing in world-famous artist and recording star Ronnie Wood to collaborate on an extremely special art project. In this multi-canvas adventure, Wood will paint – get this – an Armin Strom watch, a Virgin Racing Formula 1 car and a Virgin Racing driver's helmet.
For those who may not know (could you not know?)  Ronnie Wood has been a major recording artist since the 1960's when he started as a guitarist with a British band and went on to join several important bands over the years on guitar, bass, harmonica and vocals, and even recorded several top hits.  In 1976, he became an official member of the Rolling Stones, and has been so ever since.  His music career has coincided with his love of art, which he has indulged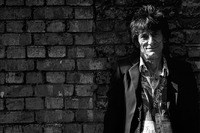 in passionately over the years. In fact, Wood was not only drawing as a child (his art was featured on a BBC television program), but also went on to train at the Ealing Art College. His paints have been exhibited all over the world, and he was recently honored with a retrospective of his artwork at the Butler institute in Ohio.
 "I am very happy to be involved with the Armin Strom/Virgin Racing Art Car and Art Watch Project," says Ronnie Wood ". It's going to be a new venture for me to paint something on four wheels but you never know, I might end up having the fastest piece of Art on the Planet."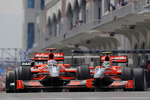 With the Armin Strom watch, the plan is for Wood to paint several bridges of the movement of an exclusive watch that will be auctioned at the ONLY Watch 2011 exhibition in Monaco. The ONLY WATCH charity event, which aids Prince Albert's charity, happens in fall every other year, and only select watches can exhibit. Following the auction, Armin Strom will create another 25 similar watches for sale second half of 2011 – naturally housing the paintings by Ronnie Wood. Armin Strom has been creating top-quality skeletonized and hand-engraved watches for years.
Additionally, as mentioned, Ronnie will paint the Armin Strom/Virgin Racing car, which will be seen at several events globally in 2011.  The Virgin Racing helmet will be painted with a similar theme to e car and will be worn during a Grand Prix weekend in 2011. Ronnie's Art Car and the helmet will be auctioned for charity in co-operation with Christie's in late 2011. For now, Ronnie will be seen wearing the Armin Strom Regulator Water watch. But wait until his watch is done and he'll be walking around in a truly artistic timepiece.