For jazz music lovers and for aficionados of the famed Vulcain Manufacture, this is an exciting introduction. In honor of, and working with, this great pianist, Vulcain now releases two limited-edition 50s Presidents' Watch models dedicated to the Herbie Hancock.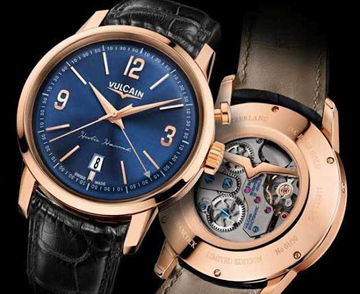 The Herbie Hancock watches are created in two versions — both with a sunburst dial in an intense and original shade of blue (reminiscent of the blue notes of jazz). There is a limited edition of 50 pieces in pink gold, and a limited edition of 250 pieces in stainless steel. Both models are equipped with the legendary mechanical hand-wound Cricket V-16 movement, that displays the hour, minute, second and date, as well as offering an alarm. The case measures 42 mm in diameter, and its back is engraved with the name of the celebrated musician. The "Herbie Hancock" 50s Presidents' Watch is accompanied by a certificate bearing his signature and authenticating the limited-edition production of each of the models, along with an album by the artist.
Born in Chicago in 1940, Herbie Hancock was 11 years old when he first appeared on-stage, performing Mozart's concerto n°5 on the piano and accompanied by the Chicago Symphony Orchestra. Hancock is a jazz chameleon who has made his way through changing styles and eras while consistently adding his own touch of musical genius. A gifted musician who played with legendary figures such as Miles Davis and Chaka Khan, Hancock is a brilliant performer who has earned multiple distinctions including 14 Grammy Awards.