A couple of weeks ago at a Zenith qatch party in Paris, where we were celebrating the brand's extensive pilot watch collection (and that we wrote about here), I had the distinct opportunity to meet Felix Baumgartner, who had joined the event.
Yesterday, I stayed glued to my television as Baumgartner made history jumping from a space capsule 24 miles above Earth in his attempt to break several skydiving records. Baumgartner, who was born in 1969, began skydiving at age 16 and quickly became bored with conventional sky diving. He has graduated to many long-fall descents – but yesterday topped them all.
Felix Baumgartner in Roswell, NM, after completing the Red Bull Stratos mission. Photo by Balazs Gardi/Red Bull Stratos/AP"I love a challenge, and trying to become the first person to break the speed of sound in freefall is a challenge like no other," says Baumgartner.
Well it is a challenge he conquered. Baumgartner broke the speed of sound in free fall – establishing a world record. He also claims that world record for making the highest sky dive, as well.  The Redbull Stratos mission was designed as a daredevil feat, but hopefully with some scientific use in the future.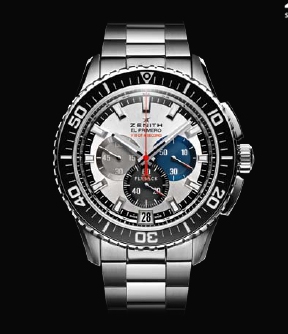 For those watch lovers out there who may want to know…  the Zenith El Primero Stratos Flyback Striking 10th Chronograph watch kept track of the entire event and made history on Baumgartner's wrist.
Zenith President & CEO, Jean-Frédéric Dufour said: "The Manufacture Zenith is very proud to have been the official timekeeper of this mission and to present the El Primero Stratos Flyback Striking 10th Tribute to Felix Baumgartner. Thanks to him, Zenith El Primero Stratos Flyback Striking 10th is the first watch ever to cross the sound barrier in a near space environment."