Earlier this week, thanks to Movado – one of the watch industry's largest patrons of fine and cultural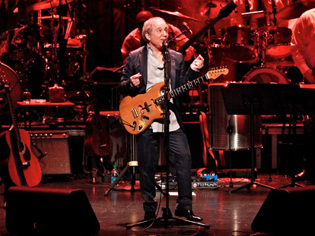 arts – I had the wonderful opportunity to go to the Paul Simon Songbook Concert—featuring Paul Simon & Wynton Marsalis at Jazz at Lincoln Center. Special Guest Aaron Neville also appeared.
I must say that the amazing blend of Paul Simon's prolific decades-long career as a singer and songwriter, and of Wynton Marsalis and the jazz orchestra yielded one of the most superb concerts ever. These iconic figures united for this once-in-a-lifetime collaboration to perform a great selection of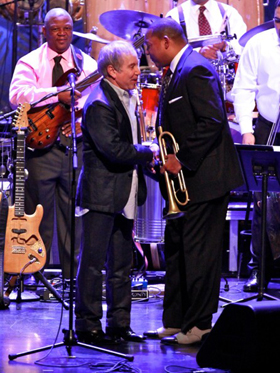 Simon's award-winning music, including The Sounds of Silence, Homeward Bound, Kadachrome, The Boxer, Slip Slidin' Away, Fifty Ways to Leave your Lover, and so many more.
There wasn't much that could make this concert better than it already was – but then out stepped legendary New Orleans singer Aaron Neville for a few songs- including his most amazing rendition of Bridge Over Troubled Waters.
If anyone has the opportunity to see Paul Simon in concert—grab it. Don't walk – run! He still has a grand voice and a perfect pull to capture your heart and hit close to home with his songs. Similarly, if the chance presents itself to visit Jazz at Lincoln Center with Wynton Marsalis—take that, too! You will not be sorry – the orchestra delights jazz lovers' passions.