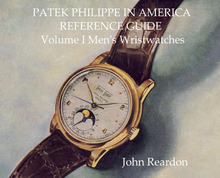 Looking for a few good reads?  New on the market are a couple of books that just might be pleasers to certain collectors. For those Patek Philippe lovers, collectors and followers, John Reardon's second book, Patek Philippe in America Reference Guide, Volume 1, presents close to every Patek Philippe men's wristwatch and pocket watch produced in order by reference number made from 1935 through to 1995.
The large format hardcover book is a grand resource features more than 1,000 references with original archive images. It is filled with fun facts that would matter to Patek Philippe fans, such as "Did Patek ever make gold Ellipse watch letter openers?" (See page 33 to find out); or "When did 'Patek, Philippe & Co' stop appearing on the dials and 'Patek Philippe' start appearing instead?" (Ans: late 1940's). There are many other more succinct questions about particular models that will have readers scouring for hours.

The book is created in a limited first edition of 1,500 hard copies and retails for $295 plus shipping and handling. (It follows Reardon's first book, Patek Philippe in America: Marketing the World's Foremost Watch.) Because it is chocked with original images, it is settling many age old questions for watch geeks in general and Patek people in particular.  It is available at www.patekinamerica.com.
For those who are in love with watches in general and crave knowledge about their stories of action, adventure and high-tech design, look no further than the new Timepiece Machines book on the market by John Simonian, innovative businessman who has spent 35 years in the Swiss watch industry. Published by Tectum Publishers, the book brings together cutting edge watches and their impressive inspiration from the worlds of auto racing, yachts, air travel and other arenas, and ties together watch  brands and their current involvements in these facets, as well.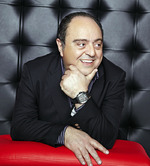 The hard-cover book offers just over 300 pages, complete with more than 200 four-color photos of watches, cars, yachts, jets and more, and is written in three languages (English, French and Dutch).  It is available now from booksellers worldwide, with a cover price of $50. www.tectum.be.