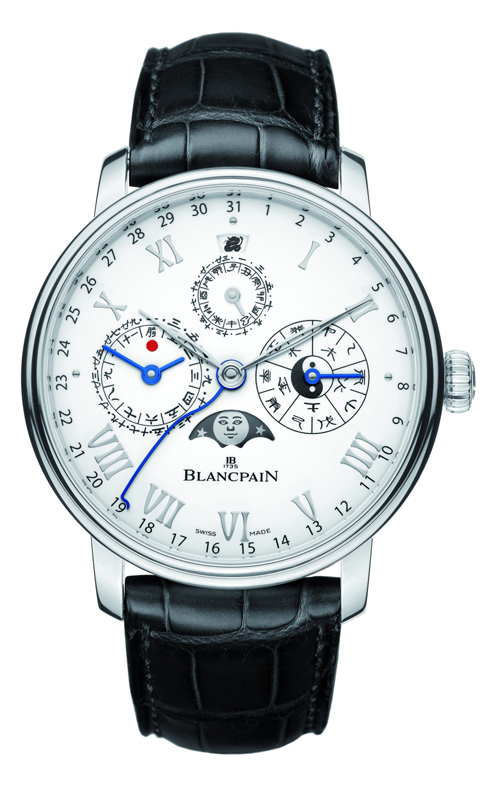 Founded in 1735, Blancpain has become one of the most sought-after luxury watch brands. Today, under the direction of Marc A. Hayek, president and CEO of Blancpain, this Swiss brand has attained a number of world firsts and patents for its impressive parade of new calibers.
Blancpain, this year, unveiled one of the most complex calendar watches ever created – and it brought this piece to the New York TimeCrafters show last week for its first USA public viewing. The VILLERET Traditional Chinese Calendar watch is an intricate and elaborate timepiece that takes into account the traditional Chinese calendar — both visually and technologically.
The haute horlogerie watch has so much to offer. In fact, on the dial the hours, minutes and Gregorian calendar rub shoulders with the main indications of a traditional Chinese calendar: double-hour indication, day, month with leap month indications, signs of the zodiac, the five elements and the 10 celestial stems. What's more, the 12 animals of the zodiac that represent the terrestrial branches follow the 60-year cycle that is central to Chinese culture.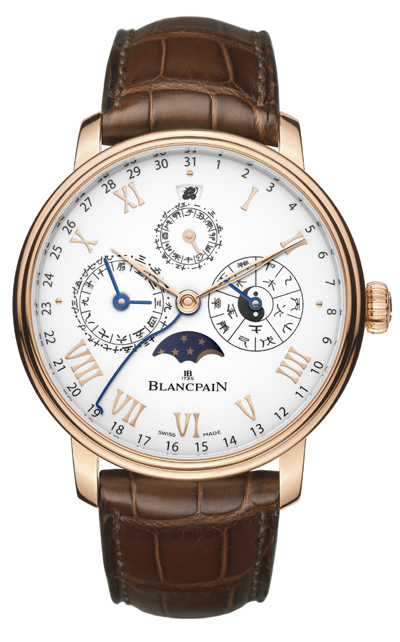 Blancpain also incorporates the moon phases in to this timepiece, as it does with all of its complete calendars, but in this piece, the moonphases play a particularly important role. Contrary to the Gregorian solar calendar (that use the solar day as the base unit), the Chinese calendar is lunisolar (a solar calendar with the lunar cycle as its base unit). There are very complex calculations that go into creating this type of calendar, and even more complicated mechanical feats that go into translating it into the movement of a wristwatch. The new self-winding caliber 3638 created to power the watch consists of 434 parts, including 39 jewels and offers seven days of power reserve. The number of indications displayed on the dial is, nonetheless, extremely harmoniously balanced. With a grand feu enamel dial, the 45mm watch is created in a limited edition of 20 pieces in platinum and a non-limited edition in 18-karat red gold. The case comprises five integrated under-lug correctors for adjusting the many indications, and the crown is adorned with a cabochon ruby. Both versions are equipped with a sapphire crystal caseback for viewing the elaborate movement.