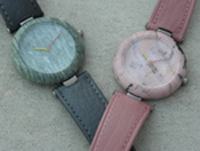 This morning I went into my old watch collection to pull out a  particular timepiece  I was on the hunt for … instead I found – well, actually, I found a lot more than I expected!!! But among the things I found were these original Tissot Rock Watches.
It was – and I recall it all so well – 1985 that Tissot, the Swiss brand with origins dating back to 1853, unveiled its Rock Watch collection to the world:  a timepiece made entirely of granite from the Swiss Alps. Built in a host of colors, the watch was an innovation in its time. In the United States, that  launch 25 years ago occurred in Chicago with a dramatic backdrop of fabricated alps, and all the Swiss execs, including Ernst Thomke, were on hand to explain the complexities of mining the rock and milling it into a case.
The event was a huge one, with Tissot hiring an entire jet to fly the Swiss over for the unveiling. The watch would retail for $195 for a quartz-powered piece of the Alps! It was a huge success, and according to Michael Pucci, the then-head of the brand, "We sold thousands of them. Saks carried them too- and many upscale jewelers. The success run lasted about 4 years."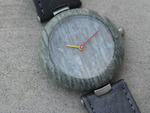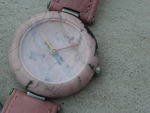 Today, these babies are hard (pardon the pun) to find rarities.
Meanwhile, Tissot has kept on innovating – pioneering in craftsmanship and technology. It offers in its collection today a range from classical Swiss-made automatics to the highly technical T-Touch line of tactical sapphire crystal multi-function watches. Tissot has come a long way since the Rock Watch, baby.    www.tissot.ch.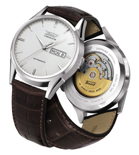 Here: Visodate Automatic.