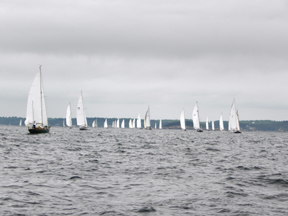 The North American circuit of the Panerai Classic Yachts Challenge concluded this weekend in Newport, RI. While I was not in Newport with the brand,, I did have the privilege of joining Panerai at the Classic Yachts Challenge kick off race of the North American circuit in Marblehead, MA, just a few weeks ago. It was an incredible event with a record-breaking 68 classic yachts competing for the challenge.
As title sponsor of the Panerai Classic Yachts Challenge, the brand celebrates its long-standing relationship with sailing culture and the water. (Panerai was the official watch of the Italian Navy early on in its lifetime.) The competition, the Corinthian Classic Yacht Regatta, took place in great weather conditions for sailing. Participating were such well-known yachts like Spartan and Black Watch, as well as smaller family-manned boats like Nina (captained by Alessandro Pagani and his wife, and two children). Winner of the event was the Valiant- — a 12-meter yacht originally built for America's Cup racing and owned and skippered by Gary Gregory, a Marblehead resident. Panerai awards the winner of each regatta a Panerai Radiomir Black Sail watch.
Both the Valiant and the Nina had also participated the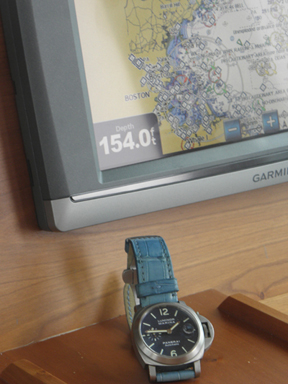 day before the races in the charity Sailing Heals – of which Panerai is a founding sponsor. Sailing Heals takes cancer patients, caregivers and family members out on the water with volunteer captains on their boats for a few hours of respite from worry and woes. "When you are sailing, you don't think of anything else," says Alessandro. "These patients deserve a few hours to just experience the soothing and calming effects of the water."
Following Marblehead, the PCYC NA Circuit continued for the second race in Nantucket (40th Annual Opera House Cup), and the culminating race in Newport, RI.