Since just before BaselWorld ended on March 14, I have been wearing a very new watch brand on my wrist: Blacksand Geneve. This brand, first unveiled to the world at Basel last year and covered by Atimelyperspective then, is an interesting one. It is an independent brand, founded by Alain Mouawad – a name well known and respected in the luxury jewelry world. Alain is a perfectionist, a man who will spend months upon months to make something exactly the way he wants it to be – which is why Blacksand is so exacting. (You can read more about the collection, the company background and the brand's calling here.)
The timepiece I have been wearing – the Uniformity StratoMatic — is crafted of high-tech materials — sandblasted ceramic and titanium. The case itself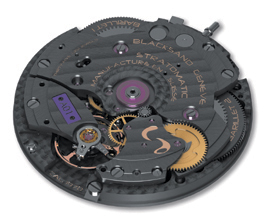 has a strong architectural appeal with its sandblasted titanium finish and curved sandblasted ceramic lugs that that reach across the entire case. The caseback is marked with "Semper Fidelis" (signifying the brand's commitment to watchmaking values and excellence), and the color palette of gray, black and purple is soothing and inviting to look at. The light weight of the piece is a little misleading to those not in the know – one expects the piece to be heavy, but titanium is ultra light so the watch is light – also contributing to the joy of wearing it. The 46mm timepiece houses a superb automatic Swiss movement based on a TechnoTime base – coated in ruthenium with tungsten carbide rotor and twin barrels that offer 120 hours of power reserve.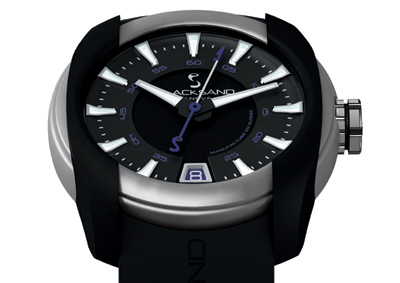 What I especially loved about wearing this watch is its extreme easy readability and luminosity. The two-level dial with bold white applied markers are extremely strong SuperLuminova for superb night reading. Overall the watch is at once modern, bold, rugged, durable and yet elegantly chic. To some, it may seem a bit high at a retail of approximately $14,500 for this version – but one has to really wear this watch to get a feel for it and appreciate its precision, luxe allure and strength of character.
Those in the know about watches may be interested to hear that the well-known watchmaker, Cedric Johner recently joined forces with Blacksand. Stay tuned to see some more news from this brand.