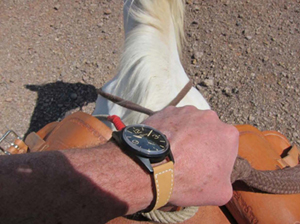 There are watches for flying. Watches for diving. There are watches with race-car pedigree. But what's your watch of choice when you're riding – riding horses that is. That was the question I had as I set off for a week at a dude ranch in Tucson, Arizona.
For me, going to the White Stallion Ranch, the choice was my new Bell & Ross Vintage BR123, a rugged watch that would not only look rugged in the Sonoran Desert, but one that would perform flawlessly as well. As I anticipated, the domed anti-reflective crystal was as easy to read on my horse on the mid-day desert
trails as it would be in any pilot's cockpit. Readability is a feature that shouldn't be considered an option when bouncing on top of a horse along a dusty desert trail among the saguaro cacti.
What surprised me about the BR 123 is just how good it looked while on the ranch. The natural leather strap was a virtual match for much of the saddlery. The clean, simple design looked right at home in the desert ranch.
So it looked good and was easy-to-read. But how did it function? Every couple of days I checked the accuracy of the BR 123 as compared to the U.S. Naval Observatory's official time. The ETA 2895 movement performed flawlessly despite the bumping around in the harsh desert environment. Extreme heat, desert winds and dust, horseback riding – nothing fazed it.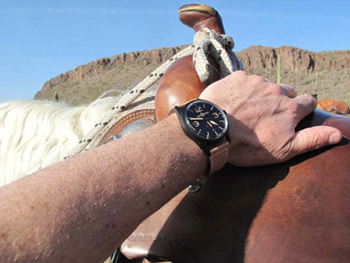 It is unlikely that any watch manufacturer will design and market a watch of stature for the individual who wants to bring out his inner cowboy on a dude ranch. In the meantime, a watch that was designed for the aviator will do just fine.
— John O'Rourke