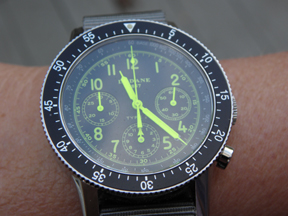 For the past month, I've been wearing the Dodane Type 21 Flyback Chronograph. Huh, you say? Never heard of Dodane? Well this five-generation French watch brand, with roots dating back to 1857, is one to know about if you don't already. The brand offers navigational pilot watches – the Type 21 Flyback — that resonate with the reality of form and function, of aviation history and current technology. Dodane, which has supplied watches to the French air force for since the 1950's, creates limited edition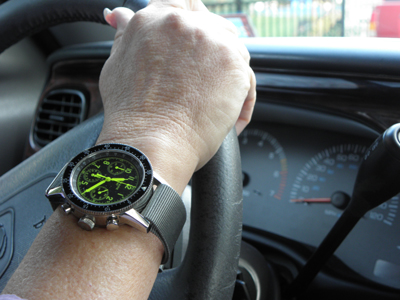 watches that house the finest Swiss movements. In fact, this fly-back chronograph model that I have been weaning is a re-issue of the original Type 21, and houses the Dubois-Depraz 42021 caliber. It is created in a limited edition of 400 pieces and is offered with either a gray or white NATO strap, or an alligator strap. The watch has the technical characteristics of a chronometer – having been tested under extreme conditions to endure stress, acceleration, vibration, temperature variations, resistance to magnetic effects and the like. It is tested and can be certified (on request) by the National Observatory of Measuring Time in Besancon , France.
T
he flyback function allows for measurement of continuous or discontinuous intervals of time. The watch is crafted in steel with a one-way rotating bezel. The version I've been wearing – which drew a lot of attention – features a black dial with Super LumiNova yellow (green) accents , hands, numerals and subdials – all inspired by on-board chronographs and low-light use in the military.
On first glance, the watch doesn't seem as special as one might expect for a $5,750 timepiece. However, it is incredibly well crafted, especially with the movement's pearlage motif and finishing. Additionally, when on the wrist, it has a strong but not overbearing presence. It gets noticed – for both its bold allure and historical significance. Personally, while the nylon NATO strap, which I tried in both white and gray, has a certain significance to it, I was not as fond of the strap as the watch on an alligator strap. For one thing, the NATO strap loops through the lugs and therefore covers the caseback—which is sapphire and allows for viewing of the beautiful movement. If I were buying it, I'd want the gator strap – and maybe an extra nylon NATO for the value of the pilot heritage factor. In all, this is a watch that demonstrates a true "insiders" knowledge of watchmaking exclusivity and prowess and is worth checking out!