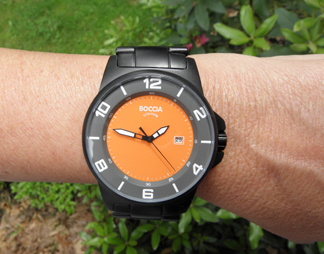 Ever dream of creating a custom watch just for yourself? Maybe one composed of your favorite colors, or your sports team's colors? Boccia id. Watch configurator now makes that possible.
0n the Boccia website you can go to the watch configurator section where they start you out with the baseline titanium watch case – your choice of either a silver or black titanium case. You then go on to choose your bezel color ranging from black or grey to colors as bright as light teal and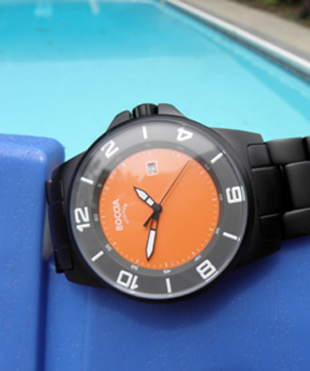 tangerine. Continuing on, you get a choice of dial colors– everything from gold, to purple, or even a classic white. Next up are hand color choices. In total there are 19 different color choices for bezels, dials, and hands – a palette for any color taste.
To finish your watch off, you can choose your own custom strap color from 11 different choices, including two titanium bracelets. Oh, wait- there's one more thing … you get to choose if you want a mineral crystal or a sapphire crystal ($50 more).
This is any watch lover's dream come true, at a really affordable price ranging from $145 – $245 (depending on if you pick a titanium bracelet or a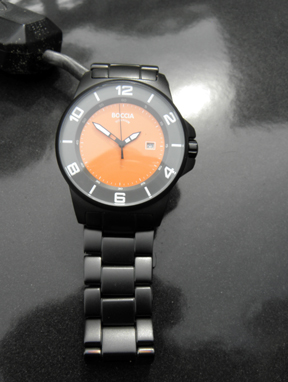 rubber strap, and if you pick a sapphire vs. a mineral crystal). What makes creating your dream watch even better is that the production time is only 1 day, so be you'll be sure to receive your watch within the week – a great last-minute gift item.
I decided to personally try this configurator out myself. With an idea in mind, I went to the Boccia website and began creating. After 15 short minutes I had the watch I imagined – black titanium bracelet, and slate gray bezel with an orange face. What was even better was receiving the watch a mere 3 days later!
After wearing this watch for a few weeks I have found that it's rugged, durable, doesn't seem to scratch, and it's colorful! I've received multiple comments and compliments on it, and what's best is that I get to tell everyone I designed it myself!