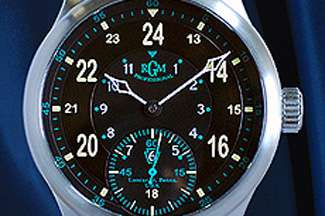 The Fourth of July is a federal holiday in the United States, commemorating our Independence from Great Britain and our adoption of the Declaration of Independence on July 4, 1776. While fireworks and picnics usually crown the day, it's a great time to take a close look at the Made-in-America sect of the watch market. Once upon a time, a half a century ago or more, America had a thriving watch business. It declined for a wealth of reasons, but one watchmaker has perpetuated the craft, and this year celebrates 20 Years of American Watchmaking. That man is Roland Murphy and his company is RGM Watch Co.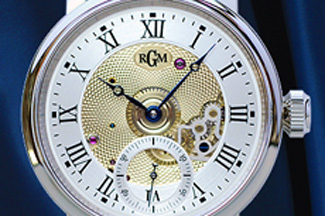 We've written about Baltimore-born Roland Murphy before here, but now RGM has a few new American-made watches to take a look at. Murphy unveiled RGM's first high-grade American-made watch movement, the RGM Caliber 801 (named for the workshops' street address) a few years ago. This movement was followed by another unveiled in 2010 – the RGM Caliber MM2 (manufacture movement 2), a superb tourbillon mechanism – the first of its kind to be fully American made.
Today, from his restored historic bank building in Mount Joy, PA, Roland Murphy's RGM Watch Co. proudly celebrates its 20th anniversary with all-new in-house-made movement; RGM Caliber 20.
Additionally, the brand has a new version of the 801 called the 801 Aircraft with a dial inspired by a World War II American Aircraft clock. Currently RGM only creates 40-50 movements a year in Pennsylvania, working in small groups of 5 to 10 calibers at a time. The watches range in price from $6,500 for the new Aircraft 801, to tens of thousands for the American-made Tourbillon.