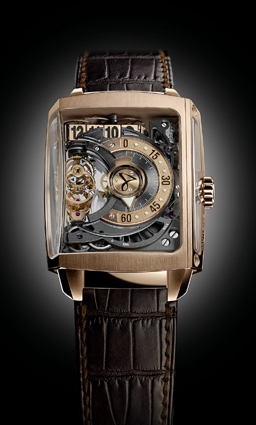 We here at Atimelyperspective.com have brought you a lot about Hautlence watches, since this luxury watch brand is an independent brand of true substance and innovation. You can search through our archives and find numerous reports of the brand's first round watch, of its release of the HL2.0 caliber and even a Moment in Time with founder, Guillame Tetu.
Now, we bring you the brand's alluring new HL2.1 and HL2.2 watches. Based on the HL2.0, which was four years in the making and released in production in its finished form earlier this year, the HL2.1 and 2.2 watches offer the HL2.0 in house movement with gear train and automatic winding system, half-trailing hours displayed by a chain-link and pallet system (patented), signature retrograde minutes, mobile bridge movement comprising the regulating organ (patented) and the
power reserve indicator. The watch also holds a patent for the operation of the movement's two barrels: one finishing barrel (the power reserve for the entire watch movement) and one complication barrel. The movement consists of 552 components. The triple-patented watch is created in 18-karat white gold for the HL2.1 version (approximately $282,000) and in 18-karat 4N rose gold for the HL2.2 version (approximately $307.500). Each is built in a limited edition of 28 pieces. This watch is an amazing delight to wear and to watch (pardon that pun!).