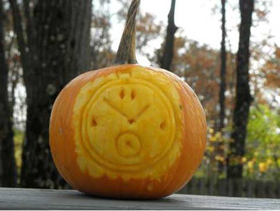 Last Halloween, when www.atimelyperspective.com was just launching in the social media world, founder and renowned watch journalist, Roberta Naas, took the initiative and made her own timepiece — with a Spooky pumpkin, 20 minutes and a kitchen knife. You see the results here, and while it may be crude – it was just the start of a great tradition at Atimelyperspective.com.  Beginning this year, the site, in cooperation with RITMO MUNDO, is running a pumpkin-carving competition – complete with a wonderful RITMO MUNDO watch giveaway as the prize to the best submission.
6 Steps to Enter to Win the ATimelyperspective/RITMO MUNDO Pumpkin Carving Contest:
Step 1: Visit www.atimelyperspective.com  and click on the Halloween Contest ad
Step 2: "Like" RITMO MUNDO facebook page at  https://www.facebook.com/ritmomundo?sk=app_201143516562748
Step 3: "Like" A-timely-perspective facebook page at  https://www.facebook.com/pages/A-timely-perspective/164073586964544
Step 4: "Follow" RITMO MUNDO on Twitter at http://twitter.com/#!/ritmo_mundo
Step 5: "Follow" Roberta Naas on Twitter at http://twitter.com/#!/RNaas
Step 6: Submit your photo of your personally carved pumpkin (a rendition of your own interpretation of a clock or watch) on both facebook pages above (RITMO MUNDO and Atimelyperspective).
Start carving now to hone your watchmaking skills. Submissions will be accepted from October 7 through October 31, 2011.  No entries will be accepted after midnight EST on October 31, 2011.  The winner will be announced on or about November 1 on ATimelyperspective and RITMO MUNDO facebook pages.