It has been just about two weeks now since we have returned from BaselWorld – and finally the watch fog is lifting. The watch fog is an ailment I incur each year when I travel to BaselWorld – previously known as the Basel Fair.  It comes from spending 8 straight days working from 8 am until – well – midnight easily if you include the dinners and parties. It comes from seeing more than 100 complete new lines from a variety of innovative brands. It comes from exhaustion and excitement at the same time.  It comes about four days into the show-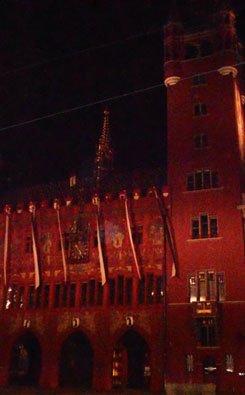 and lasts for about 2 weeks after as I unravel slowly all the trends and all the opportunities that arise during the show.
In short, BaselWorld is a cacophony of sights and sounds that meld together to form the largest, most impressive watch show in the world. This year was my 27th year attending BaselWorld. While I certainly have the younger generation of bloggers and writers beat by a long shot – my experience can still be overshot once in a while by some retailers who have been attending BaselWorld even longer than me!
While I see wonderful creativity, innovative technology and design, I also welcome the show as one where I really get to
spend time with old friends – some that I see only once a year in Basel – and with new friends. Evenings are spent having wonderful mouth-watering Swiss-inspired dinners such as  Wienerschnitzel or fondue during small, intimate dinners of just a few. I long ago learned to forgo the huge 300+-people-deep dinners where one yells over the noise in favor of small dinners with watchmakers, watch execs and innovators who are my friends.  Sometimes we explore the wonderful city of Basel before or after dinner, other times we enjoy a night cap (or night caps) at the Three Kings or the Plaza. So while the days are long, the nights make
it worthwhile.
If you are a watch lover – and I know you are or you wouldn't be here now – BaselWorld is a must-visit experience.  Next year, it happens in late April. Mark your calendar – and let me know you're visiting so we can meet.  Now, stay tuned for more news and product that made its debut in BaselWorld.