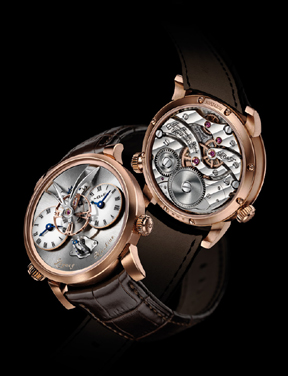 The much anticipated fifth horological machine by MB&F is out – and it is different. Not so different that we had to jump up and down and shout – but, for MB&F – it's a certain departure. To begin with, it's round! Secondly it is not named in succession, as the HM No 5, but rather it is the Legacy Machine No. 1. So, the verdict, you ask? At first glance, our reaction was "Oh" (with a hint of disappointment). Round just wasn't expected, let's face it – this is a brand built thus far on difference. But upon further inspection, we have to admit—this is an MB&F masterpiece through and through. It's got its authentic 3D beauty, its excellent craftsmanship and a bold futuristic appointment. The watch is a dual time zone piece with a unique vertical power reserve indicator that gives the watch depth and dimension.
Why round? Well, for those who know Max Busser, it's not hard to follow his thinking. "What would have happened if I had been born in 1867 instead of 1967? In the early 1900s the first wristwatches appear and I would want to create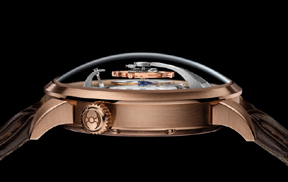 three-dimensional machines for the wrist, but there are no Grendizers, Star Wars or fighter jets for my inspiration. But I do have pocket watches, the Eiffel Tower and Jules Verne, so what might my 1911 machine look like? It has to be round and it has to be three-dimensional: Legacy Machine N°1 was my answer."
Legacy Machine No 1 features a domed bubble sapphire crystal atop some superb micromechanics. The watch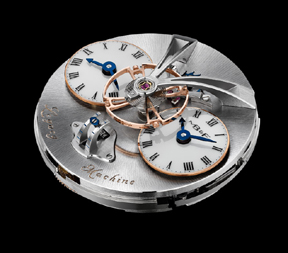 was developed by MB&F with watchmaking friends, Kari Voutilainen and Jean-François Mojon. Mojon (and his team at Chronode) developed the LM1 caliber in house 100 percent for MB&F, while Voutilainen was vigilant about the aesthetic design and finishing. The movement of the LM1 bears the names of both its creators.
The watch houses a manual winding movement with single mainspring barrel and a bespoke 14mm balance wheel with four traditional regulating screws floating above the movement and dials. The balance spring is a traditional Breguet curve terminating in a mobile stud holder. This is really something to look at. In all, the movement is comprised of 279 parts, 23 jewels, offers 45 hours of power reserve in a vertical indicator. It beats at 18,000 vibrations per hour. The hand finishing is respectful of 19th century styles with hand engravings. The watch offers hours and minutes as well as completely independent dual time
zones displayed on two dials. The 65-part case is available in white gold or rose gold.
MB&F unveiled its first Horological Machine, HM1 in 2007 and took the world by storm immediately with its bold 3D look and new powering technology. I remember meeting with Max Busser before the launch as clearly as though it was yesterday. We sat on a bench in the foyer outside the SIHH watch exhibition, and Max was so intent and excited to show off this new prototype and talk of his "friends" and the creation of MB&F. His enthusiasm was contagious and the product was superb. It was the start of something big. I remember walking away after meeting with Max for nearly an hour and thinking to myself, "This one's going to be fun to watch. It's one that's here for the long term."
A year after HM1 made its foray into the world, HM2 emerged, then HM3 in 2009 and last year the HM4 Thunderbolt barged onto the scene. That watch had barely been introduced when, in January of 2011, Busser announced cessation of the production of one machine so a 5th could be created. He admitted he was sad to have to stop producing one model in order to create another, but "We just can't keep building so many complicated pieces. It takes a lot of time to put them together and you have to sacrifice sometimes to bring out new products."
The sacrifice seems worth it. Of course, we haven't seen the LM1 watch up close and personal yet — as it was unveiled in Mexico City and Singapore today, but it's coming our way, so stay tuned for hands-on coverage.
Meanwhile, in other noteworthy MB&F news, MB&F opened its very first gallery today, too – in Geneva. The M.A.D Gallery (Mechanical Art Devices) not only plays home to the complete range of our Horological Machines, but also to a host of other carefully-curated other sorts of machines from around the world. Such interesting pieces include alien machines by a Chinese artist; kinetic art crafted by an English artist-engineer team; machines from Slovenia, light machines and more. This should make for an interesting stop when next in Geneva. We'll keep you posted.