Cartier has just launched its second concept watch, one that continues to test innovative elements slated for use in future serial wristwatches.
11 July 2012

Elizabeth Doerr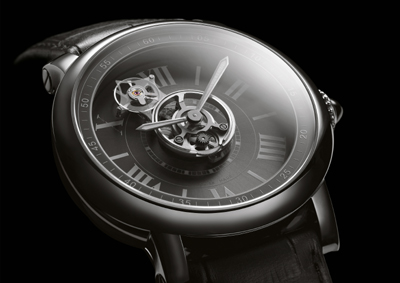 Rotonde d Cartier Astrotourbillon Carbon Crystal watch It sounds like a distant dream, one slated to shape the future of mechanical watchmaking, not the present. Three years ago, Cartier's ID One proved that it was possible to create an escapement not in need of regulation. This week, the Manufacture Cartier team headed up by exceptional watchmaker Carole Forestier-Kasapi has proven that this unique technology can be industrialized enough to apply to a limited edition wristwatch.
Restricted to just 50 pieces, the Rotonde de Cartier Astrotourbillon Carbon Crystal watch combines technologies discovered through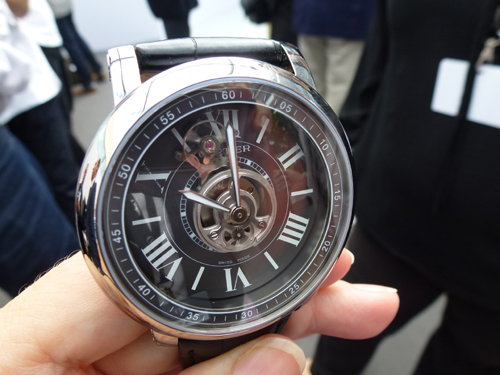 Cartier's Astrotourbillon Carbon Crystal, limited to 50 pieces, is the first serial watch to emerge from the research of the ID One © Elizabeth Doerr creating the ID One with the unique mechanics of the Astrotourbillon. Aside from the 47 mm niobium-titanium case – chosen for development for its extreme protection against shock – this special production of the unique Astrotourbillon boasts several of the ID One's innovations within its movement. One of these is the use of what Cartier calls carbon crystal components. More commonly known as synthetic diamond-coated silicon components, they were created with the cooperation of Diamaze. Cartier prefers to describe this material as carbon crystal (which it absolutely is at base) to avoid any confusion with the sparkling gemstones that are generally so prevalent in the embellishment of Cartier's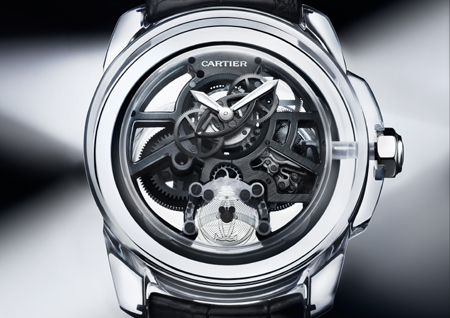 ID Twowatches and jewelry. The result of the tourbillon bridges, pallet lever, pallet fork and escape wheel – as well as pivots in tungsten carbide – crafted in this material is the ability to completely omit lubrication of the adjustment-free escapement.
ID Two
Three years after the ID One, Cartier also launches this year the sequel to the premier Innovation and Development (I and D) concept watch. These are not meant to go into serial production as is, but rather to act as tiny laboratories testing the new technologies found within.
The most obvious new feature of the ID Two is its transparent case crafted in what the company calls Ceramyst, which reveals an incredible view of all the new technology stored within, beginning with the ADLC prevalent within the movement. This black PVD-applied treatment chiefly comprising amorphous diamond-like carbon interacts with the components – including several in DRIE-etched, carbon crystal coated silicon – in such a non-friction way that lubrication is no longer necessary. Additionally, ID Two's gear train has been redesigned to include differential gearing utilizing ultra-light components not
ID Two movementrequiring lubrication. The double spring barrels – a signature element of Cartier's manufacture movement design – have been redesigned, coated with ADLC and filled with an industry-wide first: mainsprings crafted in a finely cut glass microfiber (also known as fiberglass) that provide a great deal more of the desired springy tension than conventional mainsprings and can furnish 32 days of power reserve. The adjustment-free escapement of the ID One with its DRIE-etched silicon, carbon crystal and pivot axes in ADLC-coated titanium inhabits a very special atmosphere within the transparent confines of the case: it is a vacuum.
According to research performed by Forestier-Kasapi and her team, it is the air resistance within a watch case that provides a great deal of the friction stealing energy created. Additionally, a vacuum atmosphere does not allow dust or humidity to enter the case: two more benefits.
Why all this effort, time, energy and cost? Forestier-Kasapi explains that in a conventional timepiece, a whopping 75 percent of the energy created is actually wasted. Taking the air – and thus this form of resistance – out of the case removes this added problem. Additionally, it allows the case back to attach itself to the monoblock case without even the use of screws. Aided and abetted by special gaskets and a crown construction that are less porous than usual, the vacuum atmosphere can remain status quo for up to ten years.
Both Forestier-Kasapi and head of product and services for Cartier's watchmaking innovation division Edouard Mignon stress the fact that all this innovation was brought to life to lead somewhere: to benefit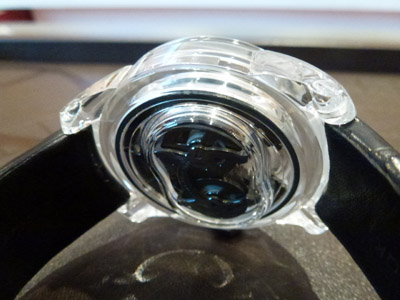 The back of ID Two's monoblock Ceramyst case is impeccably sealed by use of vacuum atmosphere inside the case © Elizabeth Doerr the end consumer by improving reliability and chronometry of serial watches.
By experimenting with materials, coatings, optimized geometry, high-precision manufacturing techniques, new materials, air pressure within the watch case, and new solutions to old problems, Cartier envisions a renewed future for high watchmaking. Could it be clearer?