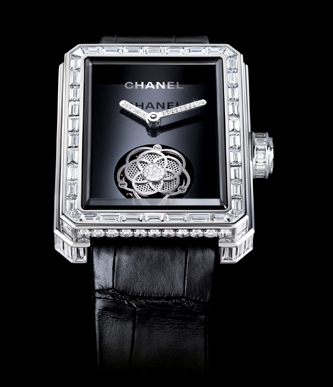 It's been more than a decade now that Chanel has been creating tourbillon timepieces. The newest one unveiled this year may take the cake. It is a one-minute flying tourbillon. Naturally, Chanel remains ever faithful to its vigilant female followers, but surprises and delights with this Premiere Flying Tourbillon watch. Crafted in a fully diamond-adorned Premiere case, the watch is created in celebration of the 25th anniversary of the first Chanel watch– whose case shape was inspired by the octagonal geometry of the famed Chanel No. 5 perfume bottle stopper, and of the Place Vendome.
The exceptional watch is the result of a close collaboration between Chanel and Swiss master watchmakers Renaud & Papi. The tourbillon escapement, visible at 6:00, is decorated with Chanel's Camellia floral motif. The flying Tourbillon makes one rotation per minute, with the petals indicating the seconds. The Camellia Flying Tourbillon Caliber is floral shaped and is mounted on a custom-designed rectangular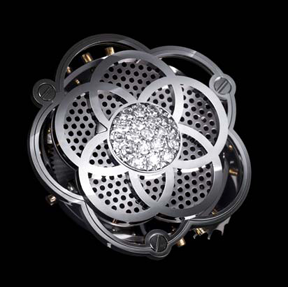 bottom plate. The dial of the watch is black ceramic and the case, bezel and crown are entirely set with baguette-cut or round-cut diamonds or precious gemstones –totaling 7.7 carats. Just 20 pieces will be created.