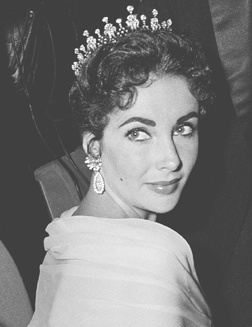 Photo by Edward QuinnEasily one of Hollywood's most loved and glamorous stars, Elizabeth Taylor has long been a favorite of movie buffs around the world. Her glamorous sense of style and her bold projection of personality have made her an icon. Now, Christie's auction house has curated hundreds of the most precious of her couture items for a four-day sale devoted to the legendary star, the Collection of Elizabeth Taylor, to celebrate her films, her fashion
sense and her humanitarian side.
To be included in the sale, which encompasses pieces collected over 50 years, are museum-quality ensembles from Chanel, Dior, Givenchy, Halston, Versace, Valentino and more. Some of the pieces are even one-of-a-kinds created directly fro her for certain Award ceremonies or performances.
Among them is a silver Chanel ball gown and cape she wore to the Royal Film performance of The Taming of the Shrew in London in 1967, and an ivory silk Valentino Couture gown she wore to the 64th Annual Academy Awards in 1992. Nearly 400 items comprise this broad collection, including not just haute couture, but also accessories,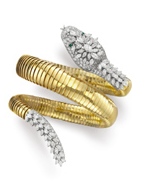 handbags, costume jewelry and shoes.
So, what watches from this legendary star are up for dibs? A diamond Lord Kalla bracelet watch created by Vacheron Constantin and presented to Elizabeth Taylor as a gift from Michael Jackson. Its estimated value is $300,000 to $500,000. On a more affordable scale, there is a diamond, emerald and gold secret Serpenti snake bracelet watch created by Bulgari, circa 1961, estimated to sell for $12,000 to $15,000. The watch features an iconic Bulgari style, with serpent head hiding the watch dial. If I had the money, I know which one I'd be after, but getting almost anything from this auction is an investment!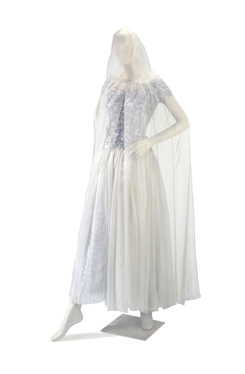 Christie's New York will present 68 of Taylor's most iconic looks in a black-tie Evening Sale of fashion and accessories on December 14. Starting on December 15, another 326 items will be sold over three consecutive days in separate Day Sale sessions.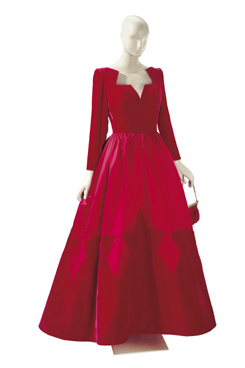 28717102. Valentino Red Velvet and Satin Ball Gown with Scarlet and Beaded Satin Evening Bag, dress labeled 'Valentino Couture', 1990s. Est.: $3,000-5,000.28715894. Chanel Ball gown, Cape, Shoes, and Matching Clutch Bag, Labeled 'Chanel', 1960s. Est.: 6,000-8,000. CHRISTIE'S IMAGES LTD. 2011