This watchmaker with headquarters in Pittsburgh and a penchant for embracing adventure opens a subsidiary in Kathmandu run by Sherpas and presents two locally assembled watches of unusual quality.
WORLDTEMPUS – 30 March 2012
Elizabeth Doerr
When a Westerner hears the word "Sherpa," he or she immediately associates it with mountain climbing. There is a good reason for this: the Sherpa caste, at home at the foot of Mt. Everest, part of the Himalayan mountain range, makes its living by guiding tourists coming to Nepal to conquer the mountain. This is a dangerous, ungrateful job – but in many cases it is the best way for a member of the Sherpa ethnic group to support its family.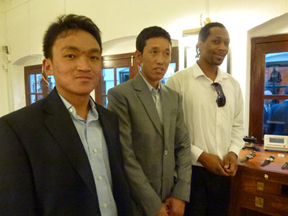 Watchmakers Namgel Sherpa, Thundu Sherpa and Dale Poindexter in the new Kathmandu workshop of Kobold Watch Company Nepal (Pvt.) Ltd © Worldtempus / Elizabeth Doerr
Watchmaker Sherpas
Namgel Sherpa and Thundu Sherpa probably often gratefully pray to their gods since the day that Sir Ranulph Fiennes and Michael Kobold showed up in Kathmandu in 2008, the latter having spontaneously decided to accompany his friend and the Kobold Watch Company ambassador who has been described as "the world's greatest living adventurer" on an Everest bid. Kobold was unprepared to climb, and he had not even reckoned with reaching what's known as base camp (the last acclimation settlement before serious climbers head up the earth's highest mountain, which peaks at 8,848 meters (29,029 feet) above sea level). He made it up much higher before both he and Fiennes had to turn back; it was then he discovered he was officially bit by the same bug that has plagued adventurers the world over.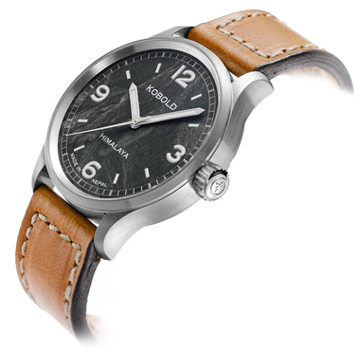 The Kobold Himalaya Everest Edition, a limited edition of 25 pieces, boasts a 5 mm dial made from summit limestone that Michael Kobold personally brought from Mt. Everest © KoboldKobold and Fiennes returned in 2009 and made it to the summit, with Kobold repeating the feat in 2010 together with his wife Anita Ugyan, who climbed without oxygen. During the three adventurous climbs, the lives of Kobold and other members of his crew – particularly his wife – were seriously endangered. Only by the grace of the Sherpas did they survive, and in his gratitude Kobold decided to make a suggestion uttered by Fiennes in 2008 into reality and invest in an unprecedented venture: training the two Sherpas as watchmakers and having them run a new subsidiary in Kathmandu called Kobold Watch Company Nepal (Pvt.) Ltd as co-owners.
"These two caught on really quickly," Kobold's head watchmaker, Dale Poindexter, said of the Sherpas' ability to learn the complicated techniques involved in mechanical watchmaking during the official opening of Kobold Nepal on March 26. Poindexter trained them for ten months in Kobold's Pittsburgh facility.
Made in Nepal
The back of the Kobold Himalaya features an idealized engraving of the mountains surrounding Kathmandu © Worldtempus / Elizabeth DoerrAs manufacturing and crafts only employ 6 percent of Nepal's 27 million-strong population, it is safe to say that skilled labor is not one of this country's assets. In fact, Kobold is certain that his venture is a highly motivational one for the people of Nepal, a way for them to imagine a different future. "Newspapers have already written that Nepal, unable to produce even a sewing needle, now has 'watch movements' with hundreds of parts. This is sure to greatly increase the confidence of the Nepalese in themselves."
The "standard" Kobold watch model bearing the predicate "made in Nepal," assembled in the Sherpas' new workshop, which is equipped with exceedingly solid, locally custom-made benches crafted from local wood, is called the Himalaya. It is housed in a 44 mm stainless steel case that was made in the U.S.A. The three-handed dial comes in brown or black and exudes the typical Kobold legibility that is the signature element of this adventurous brand. The automatic movement is a Kobold specialty: Caliber K.2651 is based on a vintage Förster movement from Pforzheim. Kobold is the only company currently using this refurbished and improved movement in serial watches. Water-resistant to 100 meters, the timepiece is protected by a sapphire crystal that is also sourced in the U.S.A. Its rugged, understated elegance completed by an alligator skin strap also crafted in the U.S.A. will allow this watch to be worn in any circumstances: on the mountain or in the city.

The Kobold Himalaya next to a manhole cover proclaiming the year 2051; Nepal follows the panchang (Hindu Indian calendar) © Worldtempus / Elizabeth Doerr
To celebrate the opening, Kobold also offered a limited edition of 25 very special watches – which were unfortunately already sold out before the evening of the opening had even come to its exciting conclusion. The Himalaya Everest Edition features a very special dial crafted from a Mt. Everest summit limestone that Kobold plucked from the lofty ground and brought back down the mountain in 2009. A German specialist company located in Idar-Oberstein spent two years ensuring the structural integrity of the beautiful dials crafted from this rock that now forms the mysterious 5 mm-thick face of the Himalaya Everest Edition. Needless to say, each of the 25 pieces is unique in its own way thanks to the natural material.