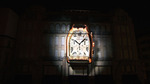 Timepiece lovers who favor the intimacy of watch boutiques have no shortage of options in New York; but lately, these upscale designs seem to be undergoing a revival.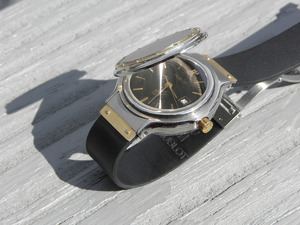 Need proof? Stroll no further than Madison Avenue starting at 60th Street, and head north to the mid 70's. The gang's all here in fashion and jewelry with a Judith Ripka meets Giorgio Armani kind of vibe. David Yurman just moved from a smaller store on Madison to a sprawling three-story townhouse a few buildings down, and more recently Ralph Lauren unveiled its flagship store at 888 Madison, which includes a watch and jewelry boutique. At a recent "Ralph Lauren 4D" event, Ralph Lauren executed a high-tech light show that used advanced video mapping technology to project gigantic images onto the façade of its men's store across the street, including an image of the Ralph Lauren Stirrup watch in rose gold.
Watch brands are not missing the block party Hublot is slated to open right next door to Hermes this fall near 62nd Street, and construction is also underway for Vacheron Constantin, which touts a 2011 opening at Madison and 64th. They'll join other luxury watch purveyors on the avenue, including Chopard, Chanel, Breguet (which is opening another Boutique next month), Blancpain and F.P. Journe, which just celebrated its first year in its über-modern boutique at 721 Madison.
These luxury merchants are stepping up their watch games, too, on this world's finest shopping street where exclusivity is the norm. Chopard just released two new limited-edition Mille Miglias, which pay homage to the famous Italian car race, and are designed exclusively for its 709 Madison Avenue flagship boutique. The Mille Miglia GTXL Chrono ($9,180) and Grand Turismo 709 Madison ($7,340) are limited to 50 pieces each and feature black DLC cases, rubber bracelets that mimic car tires and black dials accented with Chopard's "corporate blue."
Meanwhile, Richard Mille is feting the grand opening of the OC Concept Store at 655 Madison (so decadent it has its own caviar bar!) with a 10-piece limited edition of the RM 016 OC Concept in white gold ($70,000). It's Mille's thinnest watch yet, just 8.25 mm, with a skeletonized dial, hot pink numerals and the OC Concept store logo at 3:00 and date aperture at 7:00.
In typical New York style, the fun doesn't stop on Madison Ave. Watch brands are rolling out boutiques elsewhere and trendy 57th street will soon have a Breitling Boutique in its midst. More coming? You bet….