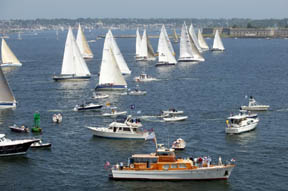 Grab your sunglasses, camera, binoculars and a blanket (and of course a great snack) and head to one of the many scenic spots around Narragansett Bay next week for one of the summer's most anticipated sailing events: the TR2011 – Transatlantic Race. Beginning Sunday June 26, with a warning signal at 1:50 pm, each of three starts will be set in motion: an eclectic fleet on Sunday June 26; luxury boats on Wednesday June 29; pure racing machines on Sunday July 3.
289 foot Perini Navi Maltese Falcon will be setting sail in Start 2, Wednesday, June 29The luxury boats include the 289-foot Maltese Falcon and the racing machines include the Farr 80 Beau Geste, the maxi Rambler 100 and a host of others. The 2,975 nautical mile race (from Newport, R.I. to the Lizard, U.K.) will see 26 entries hoping to sail into the history books.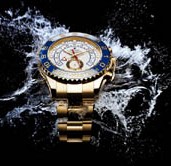 The event is sponsored by racing enthusiast Rolex, which has been sponsoring yachting events for years. This brand has a natural tie-in thanks to its superlative Oyster Perpetual Yachtmaster watches. Other sponsors of the TR 2011 are Thomson Reuters, Newport Shipyard, Perini Navi and Peters & May.